My Blood Family



To start with I will introduce you to my ex-fiance, FunkyGuru, and my daughter, ShiningAngel. I am in this picture too though I look like crap in it. ShiningAngel has a page of her own too that I made up especially for her which contains more of her and our blood family.


Next here we have my dear sweet real life mother, BlueAngel.




Mother was married to Elm for quite a few years and I loved him sooo much. He was one of my mothers husbands that I loved enough to call Dad.




Next in line is my real daddy. He has worked for the army for most of his life... since he was about 15. This photo of him is when he is in his work uniform doing what he does best, smoking.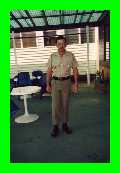 Well here is an old photo too. This one was taken at our last proper full family christmas party at Elm's and our home in the year of 1984. That was a big family party! In this photo from left to right is my Auntie Annette, my Uncle Keith, my Nanna, Grumps (my grandfather) and my mother. I am the ugly little runt standing at the front of the group. There is only one of my Nanna and Grump's kids (my Aunts and Uncles) missing from this picture and as yet I do not have a picture of him and his family to get scanned to put online... that is my Uncle Gary. He is married to my Auntie Debbie and they have 5 kids (Connie, Beven, Sarah, Reese and Harley... yes they called their last son Harley!)



Last but not least of my real life family is Grumps (my grandfather) and his new wife, Nanna Val, which he married a bit after my Nanna died in 1985. This photo was taken at their wedding. Grumps has now passed on too.



My father's parents I do not know anything of nor have I ever. I was told they disowned my dad so he never told me about any of his family, though through geneology and he help of my mother, I intend to trace through to find out who his family are. Only one relative of his I have met in my whole life and that was his brother (or one of) and I now cannot remember his name. My whole life I have had extremely little to do with my father and this I find is very sad but it was his choice. My father is a hard man...